CAMP 2062
VENTURA
CSS VIRGINIA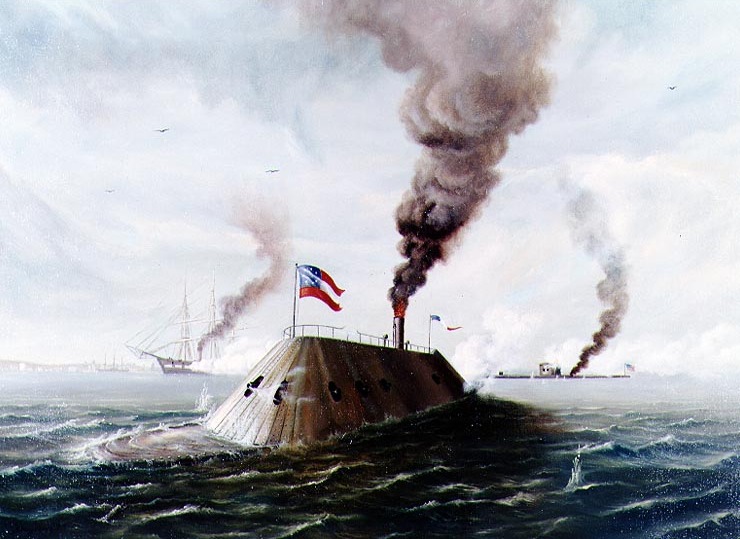 Our Camp was named in honor of the 320 soldiers, sailors and Marines of the Confederate Armed Forces who served as Ship's Company from February to May of 1862.

The Confederate Navy in 1862 was a small force of naval and Marine personnel. This small size made it necessary to request soldiers to volunteer for service as gunners and riflemen aboard the CSS Virginia.

On March 8, 1862, the Confederate Navy steamed out of Norfolk, Virginia. On that day, it was the most advanced naval vessel of its time. No longer would wooden planking and oak hulls protect sailors from the cannonade and broadside of another vessel. The days of "Iron Men and Wooden Ships" passed into history due in no small part to the innovative and creative minds of the people of the Confederate States of America. On the day that the CSS Virginia set sail, all other ships in all the world's navies were obsolete.

Camp 2062 strives to preserve the memory of their Confederate forefathers in a struggle to preserve the freedom of the people and the rights they held as inalienable. Camp 2062 honors their struggle to protect their homes-- and their fight to live in peace.

CSS Virginia Camp 2062 organized on July 20, 2002 in Thousand Oaks, Ventura County, California, in order to serve the needs of members in the north and west San Fernando Valley, as well as Ventura County.

We welcome membership from anyone, anywhere.

---
CSS Virginia has one New life member, Ted Boyias.
I have commissioned a mosaic portrait of Forrest, at my own expense. I am still searching for the following display items:
1)1 single shot percussion pistol
2)1 long double barrel shotgun
3)1 short double barrel shotgun
4)1 flintlock rifle
5)2 colt navy pistols
6)1 three band infantry British Enfield rifle
7)1 Maynard breechloading rifle

People seem to be very reluctant to donate their pieces, so I am asking compatriots to donate money for the purchase of these weapons.
Anyone wishing to help in this important endeavor, can make out checks to SCV and send to:
Dr. Ted BOYIAS
23928 Hartland St.
West Hills, CA. 91307

---