CAMP 2023
MODESTO
GENERAL WADE HAMPTON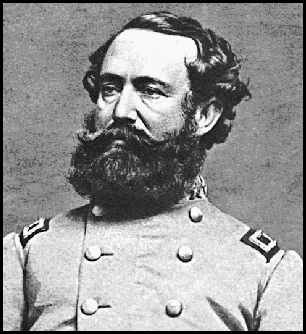 Members of Camp 2023 will hold our 1st Quarter Meeting (2017) at the Civil War Re enactment at Knights Ferry, Ca. on March 11. This is a special location with a covered bridge visited by Gen Grant.; a steep rock canyon and rolling hills. The cannon shake the earth when they fire. Camp 2023 will have an information booth for the Sons of Confederate Veterans; and continue our tradition of passing out cookies at each and every tent in the Confederate encampment.

Our Quarterly Newsletter, the "Confederate Gazette", is an internet publication which includes upcoming events. This year our members will have an entry in the Mother Lode Round Up Parade on Mother's Day - displaying various Confederate Flags, members in uniform, and a narrative of SCV and it's heritage. This year we will also hold meetings at Los Mariposas Civil War Re-enactment; the Lockford Civil War Heritage Days living history event, and a Confederate Memorial Day at either Oakdale or Woodbridge cemeteries.

The photo below is a "Canteen Ceremony Memorial at the Woodbridge cemetery where we placed 3 bronze Southern Crosses to mark the graves of patriots.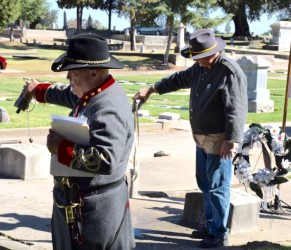 We are currently working on locating and marking an unmarked Confederate Veteran's grave in La Grange, CA.

If you have a Confederate ancestor, or simply an interest in the War Between the States, please come and join us for the day, or join us as a member. We would be pleased to have your assistance. You and your family will be welcome to all events where History Comes Alive.

Dan Shepherd, Commander

---
All Camp 2023 events are open to anyone
, (member or not), who have expressed an interest in the SCV. We welcome all new recruits and look forward to your participation. Contact Camp Officers thru this website and leave an e-mail address where you may receive information.
Friends of the SCV
If you can't prove an ancestral connection to a Confederate Veteran, the SCV offers a "Friends of the SCV" membership for our like-minded brethren. Friends of SCV can join us at all our events. the "Friends of SCV" application is located on the last section of the SCV California Division Website. Download it at your leisure, or request one from Camp 2023 Officers thru the mail.
Cadet Program
Also, children under 12 years of age who are descendants of a Confederate soldier, sailor or marine, may join the Cadet program for $10 per year. We are looking for "drummer boys." Contact Commander Dan Shepherd through this Websit to request a Cadet Application. Be sure to include your mailing address.